How to choose the RIGHT kind of 

?  Vitamin C serums and creams? 
It has been proven by many researches that Vitamin C promotes the production of collagen in the skin's dermal tissues, what leads to firmer, more toned skin.  Who doesn't want that?
This antioxidant vitamin suppress free radical activity and prevents our skin from many forms of oxidative stress.  Sun exposure cases increase in free radical activity, so using Vitamin C is as much important as applying SFP.  Also Vitamin C helps our own defense mechanisms against UV radiation.
Also, Vitamin C suppresses melanin production and works as a natural lightning agent helping to fade all types of hyperpigmentation, including post-acne brown spots.  This amazing ingredient thanks to its various super powers can be used by absolutely any age group.
But have you ever wondered, why is it that all these Vitamin C products vary in price, when technically, they all have the same ingredient? If yes, I have the answer for you.
Forms of Vitamin C used in cosmetics are vary. Vitamin C has very unstable molecule and in order for it to work when used on the skin, vitamin C's molecule has to be protected from oxidation.  Some forms of vitamin C are more stable than others.
Most Vitamin C products out on the market use Vitamin C in a form of Ascorbic Acid. The problem with these acid types of Vitamin C is that they are highly unstable. If you read the label and you see that your serum/cream has ascorbic acid or any other acid form of vitamin C in it, it does not really mean that you will get all the results that the use of vitamin C promises. Because this is unstable ingredient it has to be formulated correctly, so it is protected from oxidation, and stay stable until it used on the skin.
Microencapsulation is the method used to make unstable ingredients stable. Think of it as of delivery system for unstable ingredients. There are different types of microencapsulation, some more effective than others and the most advanced microencapsulated delivery systems allow controlled time release of the ingredient into the skin to optimize results.
The more stable and thus effective forms of Vitamin C are:
Magnesium Ascorbyl Phosphate
Sodium Ascorbyl Phosphate
Ascorbil Palmitate
Ascorbyl Tetraisopalmitate
Research indicates that Magnesium Ascorbyl Phosphate is the most stable form of Vitamin C.  It was first used in Japan as a skin lightening agent when it was discovered to also reduce the appearance of wrinkles. If you're someone who hasn't been able to use Vitamin C in the form of Ascorbic Acid because it irritates your skin, then you should be using a formula containing Magnesium Ascorbyl Phosphate, like the one in DermAware Vital C Cream.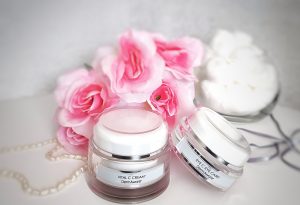 I hope that the knowledge I shared will be useful to you, and the next time you are shopping for Vitamin C cream or serum you will be able to make a smart choice and choose the better option among available for you.  And remember that the difference in price between all these Vitamin C products is based on the type and concentration of vitamin C used and how good is the microencapsulation delivery system.
Good Luck and "C" the difference!