Best Facials for Rosacea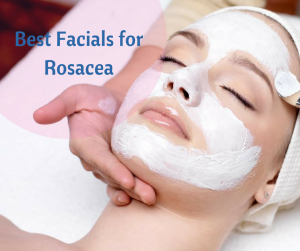 At Olessya Slivko Skin Therapy & Lash Studio of Charlotte, we offer Rosacea Facials and customized home care for our guests to help with this skin disorder. We have knowledge of rosacea and experience working with people with this skin condition. We understand that every case of rosacea is completely individual, it doesn't have the exact same effects on every patient. This is why we tailor our treatments and home care to our client's individual needs and requirements.
    All our Rosacea Facials are formulated specifically for hypersensitive and rosacea-prone skin.
Redness/Rosacea Control Signature DERMAWARE Bio-Targeted Facial $85 (60 min)
Redness/Rosacea Control Signature Bio-Targeted Facial is both corrective and tailored to your skin's individuals needs for maximum results. This signature treatment includes a deep cleansing enzyme exfoliation, light extractions, followed by a Bio-Targeted treatment mask and corrective nourishing serums. Relaxing neck and shoulder massage is included to complete this wonderful treatment.
SilkPeel Microdermabrasion Dermalinfusion $120 (60 min)
If you have rosacea, but always wanted to try microdermabrasion, then SilkPeel Diamond Dermalinfusion is for you. Skin Hydrating Pro-Infusion Solution uses Hyaluronic Acid to re-hydrate chronically dehydrated skin moisturizes, plumps skin, reducing the appearance of fine lines and wrinkles. It will revolutionize your skin. It is completely unique, non-invasive skin perfecting procedure in which skin shows immediate and noticeable improvement in volume, hydration, tone and texture. This treatment exfoliates the damaged top layer while simultaneously infusing condition specific and anti-aging serums deep into the skin. Each treatment includes one pass on the neck area, 2 passes over the face and concludes with lip and eye treatment. Custom mask and post-treatment product application included to complete this amazing treatment.
Advanced Ultrasonic Facial $100 (75 min)
This high-tech facial is performed with the ultrasonic machine that emits high–frequency sonic waves to exfoliate, repair and stimulate the skin. Ultrasonic facial is gentle, non-invasive treatment that is suitable for all skin types, from acne to rosacea. Your pores will appear smaller, skin firmer with all over healthy glow. This treatment includes a deep cleansing enzyme exfoliation, ultrasonic soft peel, light extractions, infusion of intensive corrective serums with ultrasonic face massage, followed by a Bio-Targeted treatment serums customized to your skin's needs.
The COUTURE Facial $150 (90 min)
The ultimate in luxury and science to target all signs of aging. The most effective anti-aging ingredients combined with modern esthetic technology make this facial ideal for those who want it all. Your treatment includes: enzyme peel followed by Ultrasonic soft peeling, extractions, oxygen infusion therapy, then intensive corrective serums with high concentration of active ingredients infused into your skin with Ultrasonic massage for maximum benefits and glowing skin. Custom mask (algae/O2) and luxurious lip and eye care included to complete this amazing treatment. Indulge yourself to pampering and relaxing neck, shoulders along with anti-aging hand treatment.
Come see us for a Rosacea facial or a consultation on a skin care products for Rosacea skin to use at home.